Getting The Words Right:


Device Documentation And Translation in Asia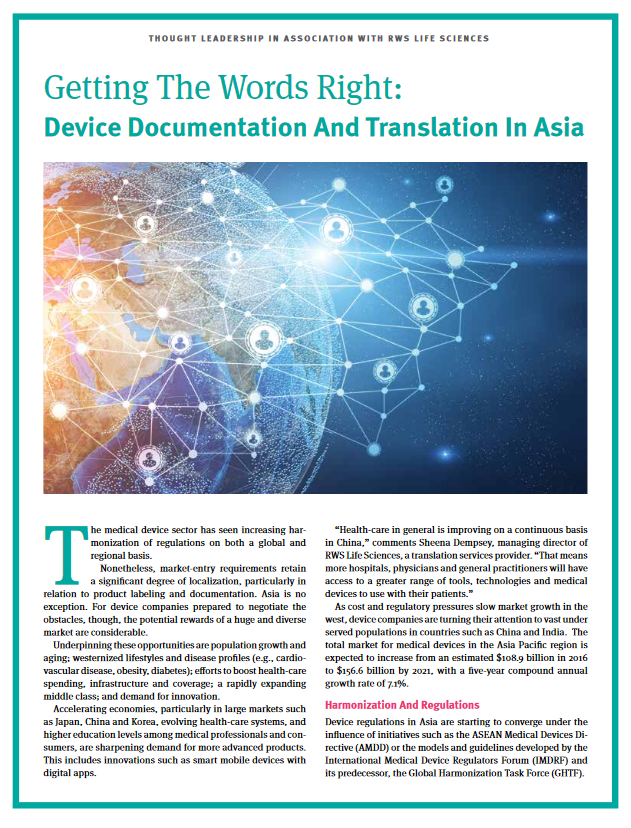 As cost and regulatory pressures slow market growth in the west, medical device companies are turning their attention to countries such as China and India, and medical device markets are expected to undergo major growth. In the Asia Pacific region, the total market for medical devices is expected to increase from an estimated $108.9 billion in 2016 to $156.6 billion by 2021, with a five-year compound annual growth rate of 7.1%.
Although the medical device sector has seen increasing harmonization of regulations both globally and regionally, market-entry requirements in Asia still retain a significant degree of localization, particularly as they relate to product labeling and documentation.
Download the RWS article "Getting the words right: device documentation and translation in Asia" to learn about the challenges and potential rewards of device documentation and translation in Asia.
The article reviews:
New regulatory reforms and their impact
The role and limitations of localizing software
Opportunities to translate for growth
Sponsored By:

Complete this form to receive your article: